The Concord Company is the wholesale dealer of trailer axle and truck parts.
We supply spare parts to all regions of Ukraine. In our product range there are air-springs, leaf-springs, shock absorbers, suspension parts, brake disks, drums, pads and shoes, filters, chassis parts, oil seals, lamps, mirrors, accessories and so on.
Today our wholesale network covers all Ukraine and amounts 280 clients including auto-services, heavy and small wholesale buyers.

Our sale strategy is built on dealers and wholesale clients who have their own buyer networks in the regions. Today Concord company cooperates with 80 large dealers. At least 3 dealers are present in every regional center of Ukraine.
Map of dealer network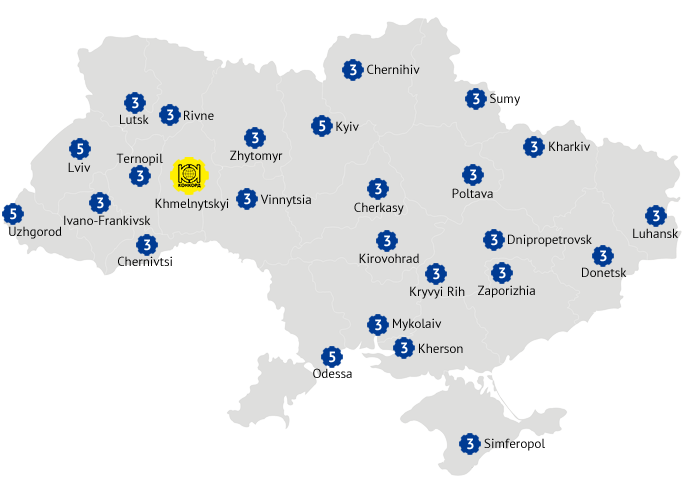 Concord Company is official importer of:
AL-KO (shock absorbers) — Spain
CONTECH (leaf-springs, U-bolts to leaf leaf-springs, air-springs, brake drums and disks, brake shoes, brake pads and repair kits to brake pads, wipers, ratchet tie down, accessories to truck and trailers, shock absorbers) — USA
CRAFT BEARINGS (bearings) - Lithuania
DPH (seal rings) — Germany
DASTECH (airsprings) - Turkey
DELSA (

different filters

) - Turkey
FRENKA (brake drums and disks)

—

Turkey
FSS (pneumatic systems, compressor systems, brake systems) — Turkey
HAMMER

(clutch system)

— Turkey
MAY (pneumatic systems, compressor systems, brake systems) — Turkey
SAMPIYON FILTERS (

different filters

)

— Turket

SAMKO FRANCE

(chassis parts, ROR, TRAILOR, SMB, FRUEHAUF, R.V.I.) —

France
SEM (chassis parts) — Turkey
TRUCKLINE (pneumatic systems, compressor systems, brake systems) — Poland
VADEN (compressor parts ) — Turkey